Welcome
to the website of DJM light bulbs, a distributor of light sources for entertainment industry.

Currently
Cinema Technology Article June 2012

Cinema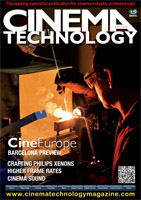 28.03.2012
EurocineExpo2012 in Cracow / Poland /
Info

Krakow
04. - 07.04. .2006
Our company will be exhibiting on AMPER 2006 (
www.amper.cz
). On 35m2 (377 sqf) in hall nr.8, booth 8A14, we will present all manufacturer of light sources that we offer, including new products from LTI, GE lighting, Osram, Philips etc.
23.1.2006

Finally arrived! Long expected premiere of the new generation of PAR 56 from Osram surpassed all expectation
18.1.2006
Osram introduced new PAR 64, which impressed by its characteristics and low price